Specifications
45 cue Self Contained Digital Smart Module
(Digital FM-45QC)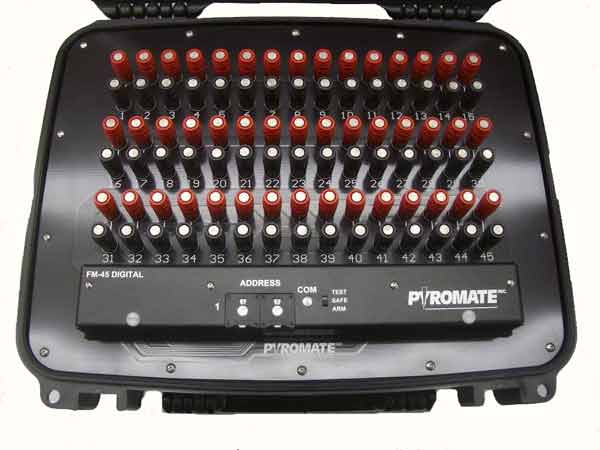 Digital processor and terminals in a single unit
90 Stainles Steel Quick Clip Terminals per module allow for 45 cues.
About 10 e-matches in series per cue depending on lead length and brand.
Each module has two XLR connectors which allow you to have multiple modules on the same wiring branch. Each module is still independently addressable.
Input and Output are gold plated industry standard 4pin XLR connectors
32bit microprocessor receives data via the RS485 Reliable Data Protocol
Module mode switch selects Safe, Test, or Arm
Multicolor LED indicates module mode
Powered by the rechargeable batteries in the controller
Power Booster Packs available to provide additional power in the field if needed for unlimited cable runs
Industrial PolyStyrene weatherproof case.
$879.00
Quick-Clips U.S.A Phone 603-924-4251 Fax 603-784-5036